Inspenet, November 19, 2023.
The Pathfinder 1 airship recently gained approval from the Federal Aviation Administration (FAA) to begin flight testing, marking the culmination of more than 10 years of research and development by LTA Research .
This company, founded by Sergey Brin, co-founder of Google, has dedicated itself to the creation of a new generation of giant aerostats with the purpose of providing humanitarian assistance, facilitating the transportation of food and supplies to remote regions of the world faster than ships and with less environmental impact than airplanes.
Pathfinder 1 Details
The airship, powered by helium, has a length of 124 meters and a wingspan of almost 20 meters at its widest point. In addition, it stands out as the largest aircraft in almost a century.
This uses stable helium instead of flammable hydrogen as the lifting gas, stored in 13 giant cells of highly tear-resistant nylon and continuously monitored by lidar laser systems. Its rigid structure is made up of 10,000 carbon fiber reinforced tubes and 3,000 titanium joints. Likewise, the outer cover consists of a thin Tedlar synthetic leather, characterized by being resistant, non-flammable, capable of resisting the effects of UV rays and blocking visible light.
Additionally, the Pathfinder 1 is distinguished from any other airship due to the incorporation of 12 electric motors designed to achieve vertical takeoff and landing (VTOL). These have the ability to propel the imposing aircraft at a speed of 75 mph.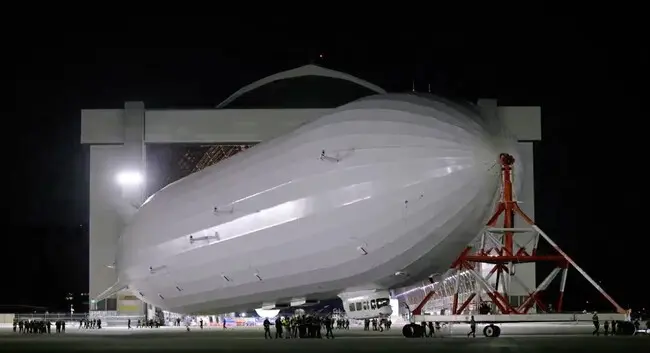 As if that were not enough, it has the ability to withstand winds of up to 80 mph, and according to LTA, this airship could carry a load of up to 200 tons. This capability, combined with the advantage of not requiring an extensive runway or significant infrastructure, suggests that these aircraft are anticipated to play a critical role in disaster relief operations.
The company states that " with these next-generation aircraft, we strive to improve the delivery of humanitarian aid and reduce carbon emissions, while providing economic opportunities and new jobs ."
This hot air balloon, with a capacity to travel up to 4,500 km, is expected to be operational for flights by the end of this year.
Don't miss any of our posts and follow us on social media!
Inspenet: https://inspenet.com/
YouTube: https://www.youtube.com/@inspenet
LinkedIn: https://www.linkedin.com/company/inspenetnetwork
Facebook: https://www.facebook.com/inspenetnetwork
Instagram: https://www.instagram.com/inspenet/
Source: https://www.infobae.com/tecno/2023/11/09/pathfinder-1-el-dirigible-mas-grande-del-mundo-empieza-sus-probas-de-vuelo/