Inspenet, May 25, 2023
The ship "Saga Faith" set sail from the Port of Montevideo, in Uruguay, with a load of 50,000 tons of pulp, destined for foreign markets. Of this volume, 20,000 tons come from the UPM2 plant located in Pueblo Centenario, Durazno, while the rest comes from the first plant located in the Fray Bentos region.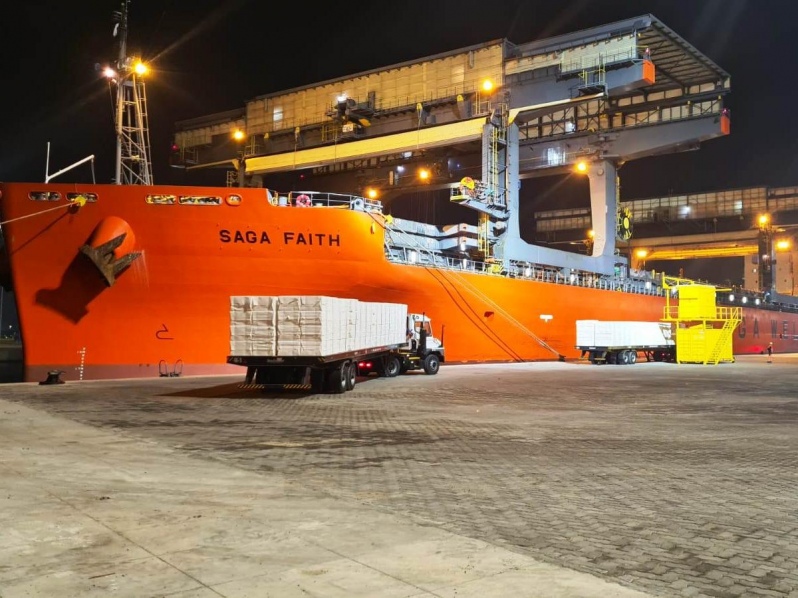 The new pulp terminal operates 24/7
Pulp loading was carried out at UPM's new specialized pulp terminal, designed to operate 24 hours a day for 7 days; logistics operation that involved more than a hundred workers.
The Minister of Transport and Public Works highlights the positive impact of the pulp export project in Uruguay
Authorities from the National Ports Administration of Uruguay (ANP) highlighted the positioning of the port as a business development center in the pulp industry, in addition to its role in container operations.
"It is without a doubt a country development project open to the world that allows us to position ourselves and be in a position to compete with other ports, with other countries," said José Luis Falero, Minister of Transportation and Public Works of Uruguay .
"Uruguay today goes one step further, as it has done in its history, definitely convinced that the growth of a country occurs betting on what the Public Administration is but in partnership with private actors, as is the case", Falero added.
According to estimates, around 30 ships are expected to arrive at the port annually to transport chemical inputs destined for the UPM plant, while another 70 ships will be loaded with raw material (cellulose) for export.
Sources : Maritime World / Uruguayan Government
Photos: Uruguayan Government
Don't miss the Inspenet News at: https://inspenet.com/inspenet-tv/