Inspenet, April 19, 2023
Mexico and Pemex are not alone in the development of refineries such as 'Dos Bocas' in Tabasco, since on a global scale, mainly in Asia, a significant number of these complexes are expanding or being built.
Although the world is accelerating its evolution towards electromobility, and greater use of renewable energy, the refining industry is not going to disappear and even remains, at least for the moment, a profitable and high-demand business.
According to an analysis by GlobalData , this year the world capacity of refineries has already reached 107.4 million barrels per day, however, the market is expected to experience growth of more than 13% between 2023 and 2027.
The largest addition of this capacity will take place in Asia, mainly China and India, although announcements have also been made and retrofit and construction work is underway in other regions such as Africa, the Caribbean, Central America, Europe , North America, Middle East, Oceania and South America, among others.
Until June of last year, 44 projects were counted that are expected to start or expand their operations, around 2026, in China, of this total, eight are complexes under construction, while the remaining 36 represent the expansions of existing projects, since the objective is meet the growing domestic demand for petroleum and petrochemical products.
In India, there are no less than 45 upcoming refinery projects, which are in the approval stage, which will also come into operation by 2026.
Alejandro Montufar, CEO of PetroIntelligence, stated that with the reactivation of the economy, the demand for refined products is growing, which in turn has put pressure on prices, thus benefiting the refining margin, since it has registered a significant increase.
Refinery margins are increasing, and it's something that's going to happen from now on. There are already many people wanting to expand refineries and making new ones".
He said that, despite the fact that some oil companies have decided to sell their refining assets and put this business aside, this has decreased the offer and has allowed other companies to continue making plans and investments in this sector.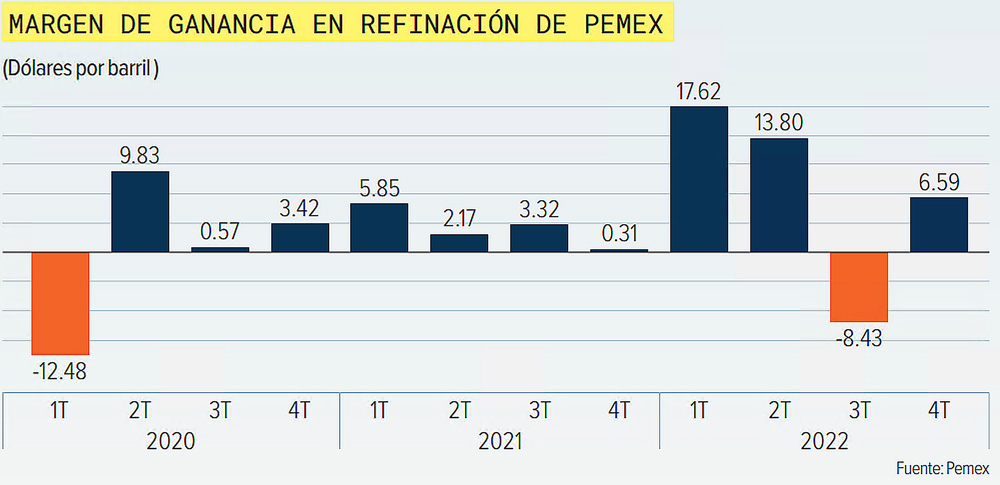 Upcoming refinery projects in the world
– Hambantota III in Sri Lanka, with a capacity of 420,000 barrels per day, is the next largest refinery in Asia. It is expected to start operations in 2027.
– Ras Al-Khair in Saudi Arabia, with a capacity of 400,000 barrels per day by 2027.
– Proposed Larkana Refinery in Sindh, Pakistan. It is expected to operate in 2025. Pakistan State Oil is the operator and owns 100% of the shares in the project.
– The Victoria refinery will come online in the United States in 2026. Prairie Energy Partners is the operator, while Southern Rock Energy Partners owns 100% of the shares in the project.
– Ras Al-Khair in the eastern province of Saudi Arabia is expected to start up in 2025. Saudi Basic Industries Corp is the operator and full shareholder of the project.
– The Lagos I refinery in Nigeria will incorporate a capacity of 650 mbd.
Source : https://www.dineroenimagen.com/economia/mexico-no-es-el-unico-las-refinerias-estan-aumentando-en-el-mundo/152077#view-3
Cover photo : ShutterStock
Graphics: AFP / Pemex
Don't miss the Inspenet News at: https://inspenet.com/inspenet-tv/