Inspenet, April 25, 2023
SpaceX CEO Elon Musk congratulated the company's workers in a tweet after the launch of the Starship rocket, which exploded during its first test flight shortly after liftoff. Musk assured that a new trial will be carried out in a few months.
Musk congratulated the SpaceX team
"Congratulations to the SpaceX team on an exciting Starship test launch!" wrote the businessman, who said he had learned "a lot for the next test launch in a few months."
According to the aerospace company, the cause of the rocket explosion was that it "executed a series of propulsions" before it performed "final docking maneuvers." Subsequently, he mentioned that the ship lost altitude, for which reason it proceeded to its controlled explosion minutes after taking off.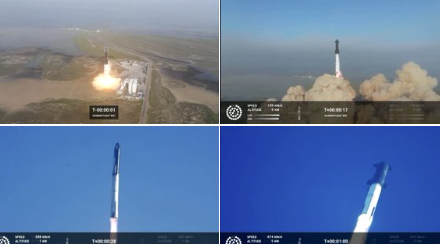 Space X explained what happened with the Starship
For its part, the official account of Space X, explained what happened: "As if the flight test was not exciting enough, Starship experienced a rapid unscheduled disassembly before the separation of the stage."
"The teams will continue to review the data and work towards our next flight test. With a test like this, success comes from what we learn, and today's test will help us improve Starship's reliability as SpaceX looks to make life be multiplanetary".
Sources and Photos : https://actualidad.rt.com/actualidad/464716-musk-llevar-cabo-prueba-starship-meses – https://diariohoy.net/interes-general/el-starship-tuvo-su- first-test-launch-226904
Don't miss the Inspenet News at: https://inspenet.com/inspenet-tv/